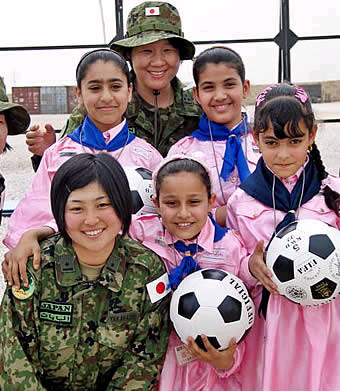 Women in the Iraqi reconstruction contingent of Japan's Self-Defense Force posed for a photograph with local girls at a recreation center in the southern town of Samawah.
President Bush has on many occasions told audiences how the awe of standing close, as a friend and ally, with the leader of an old foreign enemy never escapes him. Last September Richard Benedetto wrote about what I've maintained for quite some time: once in the fold of liberal democracy, a nation returns the aid and guidance it received through its own difficult rebirth.
I began essay Antiphony with reflection on the news that Japan's military was deploying in its largest semblance since 1945 to Indonesia for a humanitarian mission. The Self-Defense Force is packing up, now, and at least in anecdote its work has been a success:
On Monday, the Japanese closed their field hospital in the Lamara area of the provincial capital, Banda Aceh, which had been operating for more than a month.

The makeshift tent hospital treated thousands of patients.

"I'm here to say thank you, because they have been really good ... We will miss them," said Tjoet Anna, 36, a mother of two children and regular visitor.
Amends are made, if they had not been already. Japan is steadily accepting more obligations of liberty and prosperity. Afghanistan has taken its first step. With generous foreign aid and a promising native beginning, Iraq will be no different.