Michael Ubaldi, June 30, 2004.
The flight to Kelleys Island Airport was quick, beautiful and painless. Haze made nearly all attempts at photography fruitless, but I managed to catch a few above the Lake Erie shoreline that managed at least to look like a colorful evening.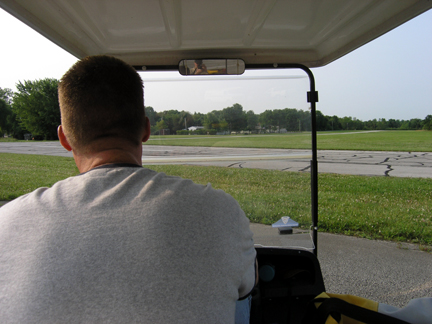 We landed, unloaded and bid our boss and pilot well as he took off into the air again for Springfield-Beckley Municipal; then made contact with the authorities and were soon at work surveying, holding our mobility to the highest in vehicular standards.
I've never lived anywhere but in suburbia and urbanity; my apartment sits just off an intermediate traffic artery and my hometown is just a five-minute drive from Cleveland-Hopkins International Airport. Syracuse University is mere blocks from downtown. The prospect, then, of hearing no interstate rumble, no roar of jets on final approach or takeoff — a background of little else than nature — is a rare one. No less enjoyable for that fact either. Trailing off a bit as the day progressed, morning birdsongs were thick with many layers; matched by crickets, the rustle of things moving through foliage and the frequent crescendo-descrescendo of hover flies buzzing past. The trees perched around the airport as they were, the effect was like walking into an old neighborhood of green houses and strange families, doors and windows open as they chattered and bustled and went about their business.
Clover cut wide swathes through fields of grass, the scent of its flowers heavy in the air — heavy enough to stay after a morning of pleasant breezes.
I found what I could only describe as a "Disney tree." My colleague thought it was a dead ringer for the classic "Scooby Doo tree," setting off a hearty discussion about his kids watching the same show he watched when he was a child — ten years before I watched them as a child myself. Who would have thought a Seventies cartoon could transcend its time, let alone selling several times over again in its original format, cheating the usual fate for its kind?
Thus ended June.