Michael Ubaldi, February 20, 2004.
A high of fifty-five degrees may have some of you reaching for overcoats, but in the middle of an Ohio February, it's literally manna from heaven. As is the circumstance for any deposite of warm air during winter, today's weather is the tip of a cold front swinging down from north. By tomorrow, temperatures will plummet to and remain in the low to mid-thirties, and Cleveland will be blanketed once again in bank after bank of snow. But as I said - these days are rare treats, and even the pensive romantics can learn to live in the moment for a few hours. No sooner did I step into the office this morning than our second-command send me to Starbucks.
We're a coffee-swilling bunch, we band of half-brothers, enough to consider dedicating an office wall to line after regimented line of inkstamped coffee machines - the same conquest accounting you'd find on a fighter-bomber's nose. We buy $40 Mister Coffee machines and run them straight into the ground; twelve cups in the morning, at least six at the stroke of three o'clock, more if we're on a roll or expecting visitors. Remember that scene in Gone with the Wind where Scarlett's Mammy whips the workhorse into collapse? Imagine that, minus a razed Tara. (Alright, minus several other things - but the principle is right.) I've witnessed a succession of three machines in as many years. Their deaths are slow and not without appeals to pathos; brewing a full pot takes nearly half an hour, overflows are common. Funny noises start to accompany the act, too, as if the poor appliance were pleading to be put out of its misery.
The third expiration had finally become undeniable this week. We unplugged the weakened beast yesterday; burial with full honors were this morning. The boss wants to look into the professional grade for a replacement; to the O'Hara analogy, a Clydesdale instead of our usual show pony. We ordered from a catalog. All this time, of course, no coffee was being brewed for our insatiable, collective appetite for caffeination. Nobody had the shakes - honestly, I can go days without the stuff - but to put it politely, I've never actually been ordered to hit the 'Bucks for a deal.
Back out into the beautiful day, leaving my fall-and-winter coat inside and stepping out into mild sunshine with my blue suit, white button-down and appropriate flower blossom tie. I dropped the windows a couple of inches as we've barely broken fifty - but the double-whammy of an unseasonable thaw and a cafe Americano after relatively long periods without either put a spring into my step that ought to last for days.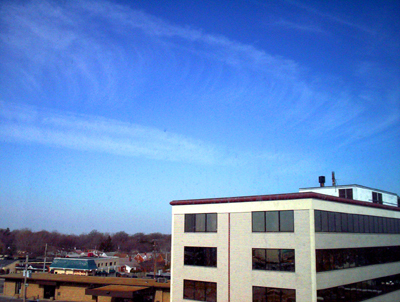 To top it all off, our Number Two surprised us all with two newly purchased company digital cameras. They're cheap little things, a pair of Kodak EasyShare CX6200s: two megapixels, modest picture quality. But they're the Brownie of digitals: handy, tiny, you-can-literally-only-do-three-things simple and unbelievably fun to use. I've been debating on whether to invest in a digital unit; convenience was a major factor and having experienced it firsthand, I'm ready to start setting aside the money. My snapshots here have been pushed, burned and dodged in Photoshop, but the process took less than five minutes.